SERVICE OVERVIEW
Investing in customer retention services is one of the most important components of running a successful business. You can reduce client turnover and attract new customers by taking advantage of the qualified professionals at ROI Solutions. By listening to feedback, fulfilling needs, and fostering client relationships, we will help you greatly improve your customer acquisition and retention. We can assist in the Market Analysis, evaluation of performance, and the strengthening your customer relations! Let us help.
New Customer Acquisition Strategies
Conducting a thorough market analysis is the most effective way to identify specific customers that need your products and services, so you can attract them to your business. A market analysis is also a way to identify shifts in the local population or legal developments that might affect your organization's bottom line. The U.S. Small Business Administration suggests using marketing strategies to identify your most ideal customer groups. The administration contends that "a good strategy helps a business focus on the target markets it can serve best." Focused marketing efforts increase your likelihood of acquiring new clients over the competition as well as ensuring those clients stay with you.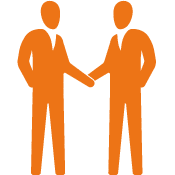 Retention Strategies for Customers
To improve your customer retention services, ROI Solutions will assist in implementing strategies that focus on finding out why your customers choose to leave or stay. We will utilize several data collection methods to obtain information regarding customer satisfaction. Methods such as client satisfaction surveys and customer focus groups help uncover problems that you didn't know existed. An organization that is aware of any internal or external issues affecting customer retention is in a better position to identify and correct the issues before they become unmanageable.
Happy Customers = Customers for Life
Maintaining client relations is an effective strategy for acquiring and retaining customers. A positive relationship between you and your customer base allows your clients to view your company as one that adds value to their personal situation. Appropriately identifying your customer needs and directing service efforts toward fulfilling those needs can greatly increase client loyalty. Consider using your resources to implement customer appreciation programs. Design your programs to show your customers that you value their business and you welcome their feedback. Customer appreciation programs will not only help you maintain existing customer relationships but also encourage new clients to join your organization.