Make the Leap to Multi-Channel Customer Service
Allow your customers to communicate with you via traditional methods like phone and in-person, as well as through modern channels like email and online chat. This makes customer service more convenient than ever but also complicates some aspects of it.
Customers can reach out over several different channels, but those channels aren't always integrated. For example, if they send an email and then make a call to the business, they'll have to repeat their story again and start a new ticket. This can lead to misunderstandings and customer service errors, which can be expensive and harm a company's reputation.
So what can forward-thinking businesses do to solve this issue? Omnichannel customer service is the answer.
By offering a totally seamless, simplified customer service experience, an omnichannel call center gives customers options without sacrificing consistency. Email, phone, and chat are all integrated with the customer history, so the customer can jump from one channel to the next without starting over with each interaction.
Companies also love the omnichannel contact strategy, because it saves them time and money by solving customer issues faster, along with raising customer satisfaction rates. Agents will find it easier to do their jobs within this simplified structure.
Omnichannel Call Center Services
When you choose ROI CX Solutions for your customer service needs, you'll find a wide variety of options for any business. We have experience working with both large and small companies in many different industries, and we strive to meet the unique needs of every organization.
We'll seamlessly integrate with your existing workflows, so you can carry on as usual, while we take care of every aspect of your omnichannel fulfillment services. We provide the following at our omnichannel call centers:
Omnichannel chat
Live video chat
Email support
Telephone call center services
24/7 customer service
Ongoing lead generation
Customer surveys
Detailed market reports
Data-backed strategies
Inbound and outbound support
When you're looking for an expert team that understands the nuances of customer service, we are ready to step up and deliver outstanding results. Choose ROI CX Solutions and see how we can help your customer service department become the streamlined, multi-channel support center you've envisioned.
Why Use Omnichannel Call Center Services?
If you've ever thought about starting your omnichannel call center in-house, you know how many challenges you're up against. Or maybe you already have a call center and are overwhelmed at the task of making all of your channels more integrated. You'll need to host ongoing training meetings, manage the team, invest in new software and equipment, and so much more. This can all be very difficult and expensive.
In contrast, outsourcing your omnichannel customer service will allow you to breathe a huge sigh of relief. Once you've chosen us as your call center, you'll simply sit back and let us get to work. While we learn about the unique aspects of your business, hire a fitting team, and get the office set up, you can keep working on your daily responsibilities. We'll do market research and create a customized strategy, and you'll love the results.
Increase Customer Loyalty
Your customers are looking for a seamless customer service experience, and we can give it to them with our omnichannel approach. We'll be able to create more engaged and loyal customers by delivering quicker responses and resolution times. They'll keep coming back, increasing your bottom line as they tell their friends about your outstanding service.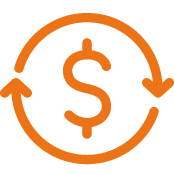 Reduce Operation Costs
Omnichannel customer service is our bread and butter. We've optimized the whole operation so you end up spending less money and saving more time when you hire our team to do the job. Here at ROI CX Solutions, we take pride in providing high-value call center services that you and your customers will appreciate.
Better Reporting
We believe that data holds the key to constant innovation and improvement. When you allow us to create an omnichannel solution for your customer service department, we can consolidate your data and create better, more useful reports. We use that information to increase performance across every sector of customer service.
Why ROI CX Solutions is Your Go-To Omnichannel Call Center
ROI CX Solutions has been providing call center services since 2008. With call center support in nineteen languages and both onshore and offshore locations, we've got you covered.
Our omnichannel call center service operates under 24/7 customer service, which ensures we'll handle any possible emergencies. This leaves you with more time for daily tasks, while we handle the ins-and-outs of your business and strategy. With ROI CX Solutions, you are sure to have a company that cares as passionately about your brand as you do. Request a free quote today to get started.