Advance Your Communication Strategy with Customer Service Chat Services
Consumers are increasingly using other channels besides voice to contact your customer service team. That means that if you haven't yet implemented customer service chat, you might not be meeting the needs of your whole customer base.
Live chat is a vital part of any modern customer service department. A chat service isn't just a supplementary part of customer service—it's actually pulling ahead of traditional methods like phone calls and even email.
Live chat customer service is quickly surpassing more traditional methods like phone calls, which means it's definitely time for all savvy businesses to start offering it. Because if your target audience isn't satisfied with your customer service channels, they'll simply take their business elsewhere.
Make sure you're not beat out by the competition—think about outsourcing your online chat service.
Chat Support Call Center Services
ROI CX Solutions offers chat support service for a wide range of small and medium-sized businesses in many industries. We understand that no two businesses are exactly alike, and our services reflect the diversity of our clients' needs.
We'll tailor our approach to your unique business, acting as an extension of your company, interacting with your customers while upholding the highest standards of customer service.
Our chat support call center services include:
Text message chat services
Website chat services
Video chat customer service
Lead generation
Data-based strategies
24/7 live chat services for websites
Complete market analysis
Our web chat services cover every aspect of live chat, so you can hand over the job to us and get back to what you do best. Our experienced team of professionals can be available at any hour of the day or night, answering customer questions, resolving issues, and helping your company maintain an excellent reputation for superior customer service.
Why Use Chat Support Call Center Services?
If you're new to web chat and live video chat customer service, building an in-house team can seem incredibly daunting. You'll need to find space for your support team, purchase all of the office supplies, and learn about the ins and outs of online live chat services—all before you even think about hiring.
Then you'll need to create a job listing, vet candidates, interview dozens of prospects, and start training. This won't be a "set it and forget it" situation, either. Your team will need on-going training and management to keep things running smoothly.
Rather than going through all these headaches and exhausting your valuable resources, you can instead hire a web and video chat call center to completely handle the job. You'll never have to do any of that additional work, such as building a team, creating an office space, or training employees.
ROI CX Solutions will take care of every aspect of your instant live chat services, allowing you to keep your focus on building your business.
Save Time and Money
Outsourcing your live chat service providers will save you a great deal of time and money. Hiring an outside team is more efficient and cost-effective since live chat customer support is our expertise.
Boost Productivity
Customer service agents can only handle one phone call or email at a time, but live chat allows them to talk to several customers at once, while still delivering high-quality service and around-the-clock support.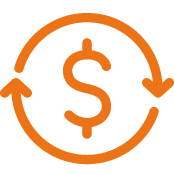 Increase Profits
As we help you cut costs, we'll also be bringing in more revenue by bringing in new leads, increasing customer satisfaction rates, and helping you develop more loyal customers. This can go straight to your bottom line.
Choose ROI as Your Chat Solution Call Center
With live chat, we understand the variety of services needed can vary from one company to the next. Customize your live chat solutions and trust our experienced team of experts to help handle any customer issues, promptly address concerns, and create a stellar reputation known for its customer service. Get started today.