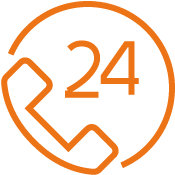 After Hours Call Center Services
An after hours call center service is a third party company that will not only possess excellent customer relation skills, but will learn the important details about your business to provide high-quality customer service tailored to your needs.
Business Benefits
An after hours call center answering service is essential to keeping your current and new customers happy by knowing that they can receive assistance at any time. Depending on your business, you may be in a global market, so the after hours call center meets the demands of all time zones. Use your after hours answering service as a marketing tool, touting your 24/7 call center availability. The call center will collect leads for you at night so you can concentrate on following up during the workday.
Additional Benefits
On another level, employing an after hours phone service will give you peace of mind that you are not missing that big sale or losing a great customer. You will work with the call center to prioritize messages, so they can contact you when there is a complex issue that requires your immediate attention. This peace of mind gives you true downtime to "regroup and recoup," so you have plenty of energy for the next day's business.
Overflow Call Center Services
As with the after hours answering service, overflow call center services ensure that you do not miss vital customer inquiries. You will work with your overflow call handling service to establish when and how the services will kick in to start taking calls, whether automatically or through manual instruction.
For companies with equipment or personnel limitations, we're also proud to offer backup and in-house services that streamline customer service and retain valuable business. The overflow call center will keep your customer communications running smoothly without having to add staff.
Why Outsource to an Overflow & After Hours Call Center?
Customer relations is no longer a 9 to 5 business. The internet has turned customer inquiry into a 24/7/365 business concern. Since many people cannot access the internet during their work hours, the "internet rush hours" between 7pm and 11pm have emerged. Contracting with an after hours call center will help you capitalize on these rush hour researchers.
According to recent studies, 75% of customers feel that a phone call is the best means of communications when trying to get quick information, and 53% get annoyed if they do not speak to a person immediately. An overflow call center service will help your business handle calls during these peak busy times and maximize customer service satisfaction.
The staff of your contracted after hours answering and overflow call center services are supervised and trained by ROI Solutions, so you can concentrate on the business of making money. With ROI call center services there will also be bilingual staff fluent in multiple languages available, possibly increasing your customer base.
Turn your out-of-office hours into productive working hours without you having to do all the work by contracting with an after hours answering service and an overflow call center.
ROI's Universal Reach
At ROI Solutions, we understand that the demands of running a business can often leave little time for achieving seamless customer service. However, by taking advantage of our overflow and after hours call center you no longer have to worry about phones ringing off the hook or calls going unanswered. No longer do you risk losing precious time, money, and clientele due to simply not having the resources to answer overflow calls or provide around the clock customer service.
As a leader in the call center industry, ROI Solutions provides unprecedented services in over 19 languages from four different locations across the globe. Our 700 employees are committed to top-tier training so we can constantly improve our methods of call center services and provide unparalleled business to our loyal clients.
With technical support personnel, friendly help desk assistants, customer service representatives, and sales conversion experts, we are able to provide you with the after-hours answering services you need to create, cultivate, and maintain loyal customer relationships.
Partner with ROI Solutions today and provide your valued customers with overflow call center and after hours answering services. Whether you need an answering service for a small business or a large corporation, we can help. Contact us at (877) 768-9132 to speak with an ROI Solutions overflow specialist and learn about the benefits of call center outsourcing today. We look forward to working with you.