SERVICE OVERVIEW
In today's age of instant communication, there is more pressure than ever to help patients as quickly as possible. The pressure starts as soon as a potential patient calls to make an appointment — which is where our medical call centers come into play. ROI Solutions relieves some of that pressure with top-quality healthcare call centers and physician answering services.
Customized Customer Care
We understand that trusted customer care is of paramount importance in the healthcare industry.  With our services, many patients won't realize they are talking with a call center representative instead of an in-house employee. Our knowledgeable employees receive extensive training to properly represent the tone and practices of your specific clinic or medical center. Every call will begin with a personalized greeting that includes your center's name and branding.
We understand the sensitive nature of the industry when handling your patients' personal information. You can trust us to handle the information with the utmost discretion and respect for your patients' privacy.
At ROI Solutions, we hire qualified individuals who are prepared to handle even the most upset or distressed patient with respect and caring professionalism. We understand that everything we say or do reflects upon your organization.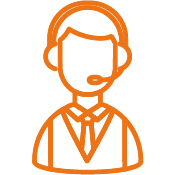 Increased Accessibility
There's something reassuring about talking to a person rather than a recording on the other end of the phone line. This personal touch can set you above other medical practices in the area. ROI Solutions offers 24/7 answering service. No matter the time or night, your patients will be able to schedule appointments and find the information they need.
Your patients won't be limited to your normal operation. The increased after hours and weekend availability can set you apart as the clinic or medical center that cares.
More Time for In-House Staff
Does your staff ever seem or feel overworked? Running a medical office means juggling many responsibilities. If any individual starts to get overloaded, important things will start to slip through the cracks.
Medical call centers free up the schedules of your in-house staff. This gives them time to focus on the patients and necessary projects of the day without being interrupted by incoming calls.
Instead of spending time on appointment reminder calls, scheduling, or billing (or falling behind on these tasks), your team will be able to accomplish more in the office and provide your customers with better, more personalized care. It's the ideal answering service for doctors that put your patients first.
Tracking and Analytics
We have the capability to provide you with detailed tracking and analytics that will allow you to identify trends in your patients' calls. This information allows us to constantly improve our processes to provide you, and, in turn, your patients, with the best medical answering service possible.
ROI Solutions can work with you to identify the best ways we can help your medical office flourish with our services. Contact us today to discuss your options and request a quote.
HIPAA and PCI Compliance
At ROI Solutions, we don't just offer excellent customer service and reporting, we also provide the peace of mind that can only come from knowing your patients' information is secure. We are both HIPAA and PCI compliant.
HIPAA compliance indicates we are able to safely transfer and continue health insurance coverage when an individual changes jobs. We can protect your information (and your clients' information) from abuse, mishaps, and even fraud.
The security standards council, PCI, helps companies comply with high-security standards when it comes to payment and card data. When your customers make a payment, they deserve to know that their financial information will be secure, which is why we hold ourselves to the PCI DSS (PCI Data Security Standard).